From Charlotte Amtrak to Raleigh Amtrak
This 160mi route takes you from one end of the Amtrak Piedmont's service line to the other. I'm sure a strong and determined cyclist could do it in a single day, but when we rode it a few years ago, we made an overnight camping trip of it, arriving very late at night at the (RV) campground in Asheboro. That is in a "dry" county by the way, so BYOB if needed.
Campground staff treated us kindly. We took a dip in the swimming pool. I think there was some all-night industry (timber?) nearby that marred our Zzzzzzs with odor...or noise? or both, I don't recall precisely.
I've heard of one other group planning to do something similar this summer (2009), but they're using a longer route, through the Uwharries and making a three-day (two night) trip of it. Sounds like a lot of fun and adventure!
Maps:
160mi (257km)
Go to the Bikely / Google Interactive Route Map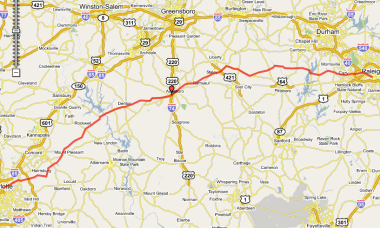 Charlotte Amtrak on N Tryon St


AT
TURN
GO
ON
0.0
R
3.4
N Tryon
3.4
R
2.6
Old Concord Rd
6.0
R
8.9
Rocky River Rd
14.9
R
0.7
Lower Rocky River Rd
15.6
L
1.5
Pine Grove Ch Rd
17.1
L
8.0
Flowes Store Rd
(becomes Miami Ch Rd)
25.1
L
2.2
Cold Springs Rd
27.3
R
0.0
Cold Springs Rd E
27.3
L
2.5
Walker Rd
29.8
L
0.1
NC-73 (Mt Pleasant Hwy)
29.9
R
0.3
St Johns Ch Rd
30.2
R
6.5
Mt Olive Rd
36.7
R
1.3
Sansbury Rd
to Gold Hill
38.0
L
3.8
St Stephens Ch Rd
41.8
L
0.1
Old US-80
41.9
R
0.1
Doby Dr
42.0
L
0.1
US-52
42.1
R
7.0
High Rock Rd
(becomes Wyatts Grove Ch Rd)
49.1
R
8.2
Bringle Ferry Rd 1002
(becomes Denton Rd)
57.3
R
0.9
W Peacock Ave
58.2
L
0.3
109
58.5
R
8.8
E 1st St
(becomes Farmer-Denton Rd)
67.3
L
8.0
Old 49 into Asheboro
75.3
BL
1.9
merges with 49 and becomes Albemarle Rd
77.2
L
0.4
S Park St
77.6
R
0.8
Kivett St
78.4
L
0.3
Cliff Rd
78.7
R
0.8
N Randolph
(becomes MLK Jr Dr)
79.5
L
0.5
Cedar Falls Rd
80.0
BR
4.2
Old Cedar Falls Rd
84.2
L
0.2
Loflin Pond Rd
84.4
R
3.9
Cedar Falls Rd
through Franklinville
(becomes NC-22)
to Ramseur
88.3
L
1.4
Patterson Grove Rd
89.7
R
3.8
Fuergeson Rd
93.5
L
0.7
NC-49
94.2
R
2.8
Old Staley Rd
(becomes Columbia St in Staley)
97.0
R
0.1
W Railroad St
97.1
L
0.2
Pittsboro St
97.3
L
0.2
Foushee St
97.5
R
3.0
E Franklinville St
(becomes Staley-Snow Camp Rd)
100.5
R
0.9
Pike Rd
101.4
R
7.9
Silk Hope Liberty Rd
109.3
L
0.5
Silk Hope Lindley Mill Rd
109.8
R
5.7
Epps Clark Rd
(becomes Henderson Tanyard Rd)
115.5
R
1.4
Castle Rock Farm Rd
116.9
L
0.7
NC-87
117.6
R
3.6
Chicken Bridge Rd
(Cross the Haw River)
121.2
R
2.8
River Rd
124.0
R
0.6
Hamlet Chp Rd
124.6
L
0.7
Oak Hill Rd
125.3
L
0.3
Manns Chp Rd
125.6
R
3.3
Andrews Store Rd
128.9
L
0.7
NC-15-501
129.6
R
3.2
Jack Bennett Rd
132.8
R
1.0
Lystra Rd-Jack Bennett Rd
133.8
R
2.1
Farrington Rd
135.9
L
2.9
Marthas Chp Rd
138.8
R
0.4
NC-751
139.2
L
4.2
Lewter Shop Rd
(becomes Green Level Ch Rd)
143.4
L
2.0
Green Hope School Rd
(Walk around barricades and across RR track)
145.4
R
1.2
Carpenter Upchurch Rd
146.6
L
3.5
High House Rd (Cary)
150.1
L
0.7
Old Apex Rd
150.8
BL
3.7
W. Chatham St
(becomes E Chatham St)
(becomes Hillsborogh St)
154.5
BR
0.8
Western Blvd
155.3
L
0.2
Powell Dr
155.5
R
1.5
Beryl Rd
157.0
R
2.2
Hillsborough St
159.2
BR
0.5
Morgan St
159.7
R
0.2
Boylan Ave
159.9
L
0.2
Kinsey St
160.1
L
0.2
Cabarrus St
160.3
---
L
Amtrak Station—Raleigh NC
Raleigh Amtrak on Cabarrus St
Note:
CH = Church
CHP = Chapel